E-mail for more images and pricing information:
maribolen@bolenbronzes.com
Please write "Sculpture Info" in the subject line to avoid spam filters. Thank you.

"Flathead Warrior"

20"H x 11"W x 13"D
edition: 25
on Walnut Base (click picture for larger image)

THIS EDITION SOLD OUT





"The Signal"

15"H x 6"W x 7"D
edition: 50
A Flathead warrior
on Marble & Walnut base



"Nez Perce Warrior"

15"H x 11"W x 8"D
edition: 25
on Walnut Base




"Morning Song"

16"H x 8"W x 6"D
edition: 50
on Marble & Walnut Base
A Ute couple greeting the day



"Sioux Warrior"

15"H x 13"W x 9"D
edition: 25
on Walnut Base (click picture for larger images)




"Windwalker"

3.5"H x 8"W x 6"D
edition: 50
on Walnut Base



"Arapaho" - click image for more pictures

"Arapaho"
Arapaho originates in the Pawnee term tirapihu, meaning "he buys or trades," as the Arapaho were the trading tribe in the Great Plains region. They have long been closely linked with the Cheyenne tribe, who called them "Cloud Men." The name given to them by the Sioux has a similar meaning: "Blue Cloud Men". Originated near the headwaters of the Mississippi River where they lived in villages and raised abundant corn crops. Later the tribe migrated and "lost the corn," meaning they ceased to plant corn. They had become nomadic buffalo hunters who live in tipis, generally in the company of the Cheyenne.

Edition: 50
Size: 16"H x 14"L x 5"D



"Lewis & Clark" - click image for more pictures
Captains Meriwether Lewis & William Clark led the Corps of Discovery from St. Louis, MO to Fort Clatsop, OR and the Pacific shore. Their quest to find and inland waterway across the newly purchased Louisiana Territory was one of the most astounding journeys ever recorded. They are depicted here at the top of Lolo Pass, MT, where they crossed the Bitterroot Mountains.
Captain Clark is wearing his officer's coat, as he did when meeting tribal leaders. Captin Lewis is shown looking for landmarks as they await the arrivals of their guide across the NezPerce Trail.
Lewis & Clark
19" x 13" x12"



"Sacagawea & Baptiste" - click image for more pictures
"Sacagawea & Baptiste"
Sacagawea, the Shoshone woman who accompanied Lewis & Clark on their historic journey, was sold to Charbonneau as a slave by the Gros Ventres, an off-shoot of the Arikara band. She bore her son, Baptiste, just 6 weeks before Charbonneau was contracted to serve as interpreter for the Corps of Discovery. She was welcomed as she would serve as a signal to other Indians they met that theirs was a friendly mission. Her value as guide, interpreter, herbalist and forager increased as her husband's value to the Corps waned.
She is depicted as a 16 year old new mother in a very intimate moment...when she and her baby, the only person to whom she could relate, were at rest atop Lolo Pass. She shows him with a sweep of her arm, that this land...this place, is his heritage.
Size: 11" x 11" x 9" on Marble & Walnut Base

York Meets the Indians

"York Meets The Indians"


The man known as only as York was an important member of the Lewis & Clark Expedition. He was Clark's boyhood friend and slave, but he was included in every vote on decisions as an equal. A big powerful man, he had a wonderful sense of humor and loved to entertain by singing and dancing. Meeting the Salish Indians for the first time proved to be a lesson to the people who had never seen a black man before. They thought him to be an evil spirit or a burnt man! When the children moved to "rub the charcoal off the burnt man's skin", he stood quietly; then picked the boy up and danced around with him. This frightened the Salish at first, but when they realized he was only singing and dancing with the child, they all joined in as well.

"Seaman" - Lewis' Newfoundland

"Seaman" - Newfoundland of the Corps of Discovery
Meriwether Lewis purchased Seaman, a Newfoundland dog, for the trek across the Louisiana Purchase. The dog was sold for the unheard of price of $20...a princely sum. Seaman was well-loved by the company and was coveted by the Indians they met on the trail.


Although he is mentioned often in the journals, there was no further mention of him from the midway point on the way back to St. Louis. Some say he made it back home with Lewis; some say not.

Size: 10" x 10" x 4"




The enigmatic leader of the ill-fated 7th Cavalry was George Armstrong Custer. He was commissioned a Brevet General during his Civil War career, but then returned to the rank of Colonel when he went west for the Indian Wars of the 1860's. He decided to keep his General rank despite his orders to the contrary. He was hailed as a fallen hero when he led his troops into a massacre at the Little Big Horn, but his reputation today is that of a fool-hardy egotist who massacred the Indians. He still holds the fascination of scholars and historians of this era.
(click image for more views)

17"h x 12"w x 13"d on 2" Walnut Base
Edition: 25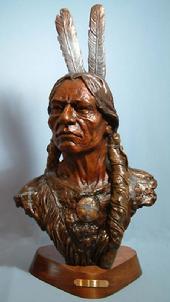 Sitting Bull
"Sitting Bull "-Tatanka-Iyotanka"
The Lakota tribes united under this Hunkpapa-Lakota chief and spiritual leader during their struggle against the white incursion on the plains of the Dakotas and Montana. He defied the orders to take his people to reservation lands; leading to his 1876 confrontation with Gen. George Armstrong Custer on the Little Bighorn River in Montana Territory. His gathering of Sioux, Arapaho and Cheyenne tribes was the largest ever and such a gathering was never to happen again.
He is depicted in bronze at the age of 41, in 1872, wearing a Sun Dance shirt...proud and courageous; rather than the defeated man we see in pictures of his final days.
22"h x 12.5"w x 8"d

Edition: 25
"Tsalagi" - Cherokee

"Cherokee - Tsalagi"

The Cherokee, called Tsalagi in their language, also called themselves "Aniyunwiya", the principal people. Known as one of the Five Civilized Tribes, their original territory was the Carolinas. They easily adopted the ways and some of the dress of the white settlers, but preferred the colorful turban wraps adorned with plumes of egrets and other large fowl. This man wears a Jefferson Peace Medal.
Later, this tribe was to be sent on the most infamous death march in U.S. history, the Trail of Tears...from their homeland to Oklahoma. Huge numbers perished and their way of life was altered forever.

Size: 18" x 11" x 8"
Edition: 25

Click picture for more images